&nbsp
While advancing in the video game, titles as popular as FIFA either ClashRoyal allow and encourage the user to buy the calls loot boxes (loot boxes): for a few euros, chests or sealed envelopes are purchased that may contain just the footballer, the weapon or the legendary card that the player is looking for to progress. The probability, however, is slim. When the virtual surprise is opened with great fanfare, it almost always contains items of little value. And a lot of frustration. So some pay again to try again. Until it touches.
Several 'loot boxes' in the 'Overwatch' video game store.
The Ministry of Consumer Affairs calls them "Random Reward Mechanisms (MAR)" in the draft of the law with which it wants to regulate access to these boxes, and prohibit it for minors, since it considers that it encourages "compulsive" behaviors that can reach be pathological. In June, consumer agencies from 18 European countries came together to demand better regulation. And the promoter of the project, Norway, defended that the "predatory" practice of loot boxes it implies the "exploitation and manipulation" of the user.
A long time ago, many titles introduced micropayments that allow you to purchase certain objects within the game itself, but making it clear what you are buying, so practically no one disputes this system. The loot boxes (whose origin would be the 2007 Chinese game ZhengtuOnline) are the random evolution of these micropayments, and, for their critics, that randomness brings them closer to gambling.
More information
When Miguel Dieguez's son (50 years old) was 12, it was what he asked for for Christmas, his birthday or whenever he had the chance: "It coincides with a time when they start to have mobile phones, almost the whole class plays and they tell you: 'My friend was given 30 euros to spend in the grocery store Fortnite'. We are attentive to what you play, and you do not have access to payments. The problem is that they hook you and from then on when you grow up you already have the bug inside. It seems very dangerous to me and a door to gambling".
A moment from 'Zhengtu Online', a video game in which the 'loot boxes' were created.
Then Fortnite still contained both models: micropayments for objects and loot boxes. A 2019 ruling forced Epic Games, creator of the title, to compensate US players for MARs. The company removed them from its games and its CEO, Tim Sweeney, said in a statement: "Do we want to be like Las Vegas, with slot machines, or be widely respected as creators? I think we'll see more developers move away from loot boxes […] We stopped offering them because we have noticed that some players were repeatedly disappointed not receiving the random items they expected.
Indeed, the gaming community itself increasingly condemns this practice. Electronic Arts received so much criticism for how loot boxes of Star Wars Battlefront 2 They conditioned the game, which ended up eliminating them. Because there are aesthetic rewards (clothes, symbols) and others that affect the background: objects that provide more chances of winning a game. Whoever does not want to pay can trust his talent, or give hours and hours to the game. Logging in every day, even for five seconds, or playing in certain time windows also provides rewards, encouraging the user to come back again and again.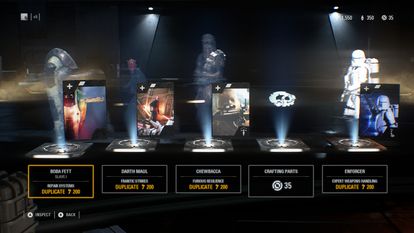 Some rewards obtained through 'loot boxes' in 'Star Wars: Battlefront 2'.
Despite the criticism, the loot boxes they have invaded even the real world: there are websites in which you pay for surprise boxes that contain everything from shoes to computers. And many video game companies maintain them. Electronic Arts itself uses them in the most successful soccer video game in the world, FIFA, which is produced by EA Sports. Company sources defend: "In all our games spending is optional and most do not spend anything. We strongly encourage parents to use the available controls to ensure that they are able to make the right decisions for their children, including spending in the game. We believe that optional digital purchases, when done right, can play an important role in giving gamers a choice about how they want to invest in a game, be it time or money. The important thing is that they have that option, that the mechanics are fair and that it is fun".
The draft Consumer Law is good proof that the debate is complex. Since it was announced a month ago, it has received both attacks and applause from both sides, as well as from neutral viewers. Perhaps the only point of consensus is a clarification that the ministry itself considered necessary: ​​at no time is it intended to question the sector in general, which the Government supports and encourages, and which moves a volume of business that exceeds cinema and music together. In the world, at least 40% of the population uses video games, according to most studies. girlteenposinginbra.1blogs.es
Critics of the MAR are grateful that the Government has made a move, but many consider that it has fallen short. 54% of parents believe that the measures are not enough, according to a survey of a thousand people carried out by Elena Plaza Labrador, a specialist in marketing digital. It is also doubtful that the law enters into force before the end of the legislature.
Joaquín González-Cabrera, doctor in Social Psychology and Methodology of Behavioral Sciences at the International University of La Rioja, points out another problem that emanates from the very definition that the bill offers of the MAR. The draft of the legal text establishes that these mechanisms not only have to be random and paid (they can be bought with money directly or indirectly, through fictitious gems or coins), but also the "virtual object" that the user finally obtains can be "1st Assigned or exchanged between the participants of a product of software leisure interactive. 2nd Exchanged for money or for other virtual objects used in that product of software interactive". However, much of the loot obtained in the loot boxes they cannot be sold, exchanged or exchanged, so the ambiguity of the draft (in Consumer Affairs they state that it will be finalized) leaves open the possibility that minors continue to buy the —many— loot boxes that generate rewards that are not exchangeable and the player has to keep them.
Other doubts surround the model chosen by the ministry: some allege that the obligation to register with ID or biometrics can distance users from the video game itself; others emphasize that the law exaggerates the magnitude of the phenomenon; and AEVI, the Spanish Association of Video Game Publishers and Distributors, issued a harsh statement rejecting its "assimilation to gambling": "We are surprised that the Ministry of Consumer Affairs has this approach to our sector while other ministries of the same Executive considered as an agent of innovation and cultural creation".
González-Cabrera, however, underlines the increase in loot boxes. According to a 2020 study from the University of York, more than 58% of mobile games on Google Play and iPhone contain them, and 93% and 95% of these games, respectively, are recommended for children over 12. In computer games, "only" 38.8% of titles with loot boxes they have the +12 recommendation. According to González-Cabrera's own research, 30.4% of the 6,603 Spaniards between the ages of 11 and 30 surveyed had bought at least one MAR in the last year (28.9% among minors). And found that it is 4.5 times more frequent than those who have acquired loot boxes in the last 12 months have problems with gambling. "No one doubts the relationship between the consumption of loot boxes and pathological gambling problems," says the researcher, although he admits that there is no solid clinical evidence of this causality. There are those who believe that simply not enough time has passed to prove it.
Francisco J. Sanmartín, a doctoral student in Psychology from the University of Córdoba and co-author of a study on MARs, adds another reflection: "Before the boxes are opened, a moment of tension is created similar to gambling or slot machines . Sometimes you stay very close to what you wanted, or you are informed that someone, a while ago, has achieved a very big prize. And that's how addiction feeds."
Both experts reject the comparison, habitual in those who defend the loot box, with the randomness of the Lottery, or the cards of a lifetime. Sanmartín alludes to what is known as "intermittent reinforcement": "With the cards the reward is not so fast, you have to go to the kiosk, buy them. This is very fast, full of lights and colors. when i open an envelope [de papel] no one comes to applaud me."
EA Sports, condemned in the first instance in the Netherlands for the similarity between the loot boxes and gambling on FIFA, was acquitted in the second and final instance, as the court did not consider that it was a different game, "isolated", from the main one. Even the judges disagree. What is clear is that the sector plays a key game for its future.
All the culture that goes with you awaits you here.
subscribe
Babelia
The literary news analyzed by our best critics in our weekly newsletter
RECEIVE IT
50% off
Subscribe to continue reading
read without limits
Original content at https://fromthesource.link/2022/08/21/loot-boxes-slots-within-video-games-culture/
All rights are reserved for the original content (link in the upper line) author's
Acording with the Digital Millennium Copyright Act ("DMCA"), Pub. L. 105-304 If you believe that your copyrighted work is being infringed, notify our team at the email [email protected]